Brettrix Preferences - Scoring
Another thing which you can change for each option set is scoring. You can choose to get points for each row of bricks you complete, each piece you drop, and/or each time you're confident enough to drop a piece from near the top after quickly moving it into position. If you think this game is pointless, you can make that point by choosing not to score any points at all.

As of version 1.1, you can submit your scores to the global high score lists from the High Scores screen.

TIP: You must click 'Save Set' before your changes to an option set will take effect. This is to ensure that a single game or set of high scores does not use more than one set of options.

Click on a tab in the picture to see other preferences, or scroll down for text links.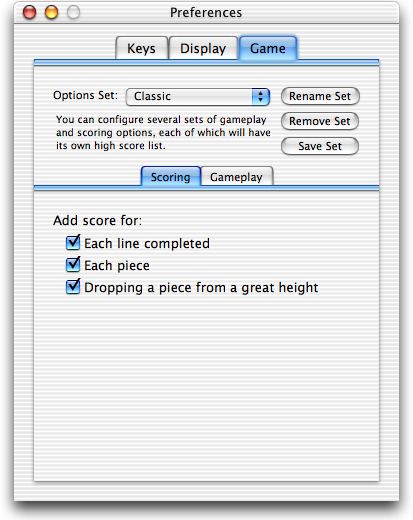 Keys | Display
Gameplay